This is the second edition of legal reprieve for Landlords by Ebun-Olu Adegboruwa, SAN. "The first edition got positive feedback and it has been a great relief for me and for many", he said. Especially those powerless landlords that have been at the mercy notorious tenants. Who have put them through hell, in order to enjoy the benefits of their investments. Also, "I know there are landlords who act like the whole world revolves around them. Using the slightest chance to extort tenants through unreasonable increase in rent, bullying and constant harassment", he said. This article will deal with those godless landlords in the nearest future.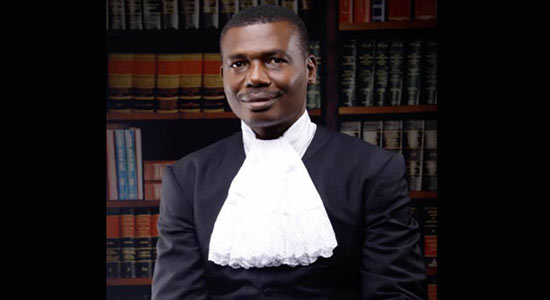 Legal issues
Another complex legal problem handled by the Supreme Court in Pillars (Nigeria) Ltd. v. Desbordes (2021) 12 NWLR (Pt.1789) 122 is the legal issue for a landlord who has properly served a tenant with a quit notice and then collected rentals. There are numerous possibilities. Some landlords simply issue quit notices to scare the tenant into agreeing to a random increase in rent. While others do so for legitimate reasons such as a troubled relationship with the tenant, failure to pay rents, or other issues. Some schools of thought have traditionally argued that collecting rent by a landlord who has previously issued a vacate notice amounted to a repudiation of the notice. While others believe it indicates a continuation of the lease that had terminated. Others have gone so far as to call it a waiver.
This issue has now been put to rest in the famous words of Ogunwumiju, J.S.C. on page 144, paragraphs A-C of the report:
"The appellant's strongest argument is that the respondents relinquished their forfeiture right by demanding and collecting rent until 1995." Even though the Respondent collected rent until 1991, there was a letter from the respondents' counsel – exhibit N – written in 1992 plainly indicating a desire to terminate the lease, and I concur with the conclusion of the court below in agreeing with the High Court. Even where the notice to quit had expired and the tenant refused to yield possession in time, the fact that a landlord collected rent on a property still in the tenant's occupation or possession after the notice to quit had expired cannot be construed as a waiver of the notice to quit by any stretch of the law, equity, or imagination. The notice to depart would remain in effect until it was formally revoked by the landlord or until a new tenancy agreement was signed."
As long as the landlord owns the property and the tenant occupies it, any rent paid on it should go to the owner as part of his legitimate income, and it should not deprive him of his ability to sue the tenant.
Now, I've read several perspectives on the Supreme Court's admirable decision, in which some claim that Ogunwumiju J.S.C.'s concurrent judgment was an obiter that contradicted Agim, J.S.C.'s leading judgment. Pillars v Desbordes, in my opinion, is groundbreaking in many ways. Particularly in terms of the burial of technical procedures at the price of substantive justice. The Supreme Court is a policy court. And it should seize every chance to issue historic decisions that advance justice and equity. Most of the answers to the first essay on this topic, some of which I will share with you, below.
Albert Oladapo Ogunwusi
"When there is an appeal, the creditor is to wait for the appellate court's ruling. The reprieve comes too late. Only the issue of notification shows in the decision. Our system continues to use delaying tactics that are simply based on nothing. There are always adjournments and other systemic delays".
Arinze Christian Chukwuma
"Thanks a million my learned friend for this insight. I hope that our court system improves, and the parties comply with the rule of law to benefit the society. Kudos".
Seyi Adeyemi
"God bless you, Ebun-Olu Adegboruwa. Nigeria needs to do more on delaying judiciary matters, as most people are dying in prison".
Sunny E Nnaji
"Only in Nigeria does a tenant fail to pay his or her rent after getting a quit notice. Which is wrong".
Victor Eke
"A slow judiciary can be a prohibition to foreign direct investment in the country. Even the citizens are sick of investing in their own country, thus, the economy suffers severely. A bad economy can unsettle a government as the masses groan under this vicious cycle."
In conclusion
The case of Pillars v. Desbordes has shown us the complexities and difficulties that litigants in Nigeria encounter. So it is not so much the Supreme Court's notable decision that has put an end to landlords' nightmares over the years, but rather the urgent need for all stakeholders, including members of the Bar and Bench. As well as all lovers of justice, to come together to devise a mechanism that will make cases like Pillars v Desbordes a thing of the past in Nigeria's history of justice administration.
The monarchical rulership in England evolved the concept of statutory notices in keeping with the idea that the Queen can do no wrong. So, even if you want to sue the Queen, you must first warn her and give her adequate time to prepare for your potential claims. This was extended to all British-colonized countries, including Nigeria, which was then a Protectorate and Colony. After we gain independence, these laws should be repealed. Nigeria is now a republic with its own Constitution, and we should not be shackled by colonial legacies.
All citizens should have unrestricted access to the courts, as guaranteed by Section 6 of the Constitution and all applicable regulations in this regard. When the attacker does not offer any notice of hostility, there is no reason to try to appease him with statutory notice. Some employers terminate employment without following due process of law, but the employee is to give notice of his intent to sue. For example, you trespass on my land without my permission, but I must first issue you a pre-action protocol notice before I can file a suit to recover my property. The inequity in this situation is too obvious. A counterclaim is an independent action in our law, for example, defendants are not to file a pre-action protocol before filing their counterclaim to your case.
Finally, for the time being, Pillars v. Desbordes is a game-changing decision that will save landlords and eliminate bottlenecks in landlord-tenant cases. We can create a new structure to assist tenants who have been victimized. And we have a ready tool to combat technicalities on our hands. These notices serve an aim opposed to our national growth and jurisprudence. When defendants get the notification, they sometimes formulate fast strategies to outwit the proposed lawsuit and exceed the plaintiff's claims.
Such selective protection of one litigant against the other, in my opinion, is unjust. It is, without a doubt, discriminatory. Similar clauses can be found in other antiquated legislation, such as the Sheriffs and Civil Process Act. Which requires the agreement of the Attorney-General of the Federation or a state in order to carry out a court-ordered judgment against the government. In some shocking circumstances. The Attorney-General is named as a defendant in the case for which he must provide approval to execution. How can someone who actively took part in the trial, took a stand against the case, and was soundly defeated in court be asked to consent? As a nation, we cannot continue in this manner while professing our respect for justice. Let us see more about Pillars v Desbordes from the Supreme Court.